http://kerugmas.blogspot.com/2011/12/rampaul-bowls-west-indies-to-victory.html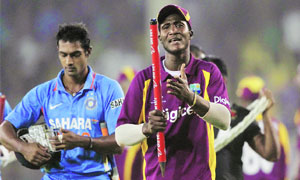 Wickets fell in quick fashion at the start of the Indian innings and it took another special effort from the classy Rohit Sharma to help his team stay afloat.
»
Man of the match Ravi Rampaul (four for 57) bowled the West Indies to its first victory on tour (India's first home loss in 12 matches) on Monday night. The 27-year-old struck twice in his first over, the second of India's chase, dismissing the dangerous Virender Sehwag and Gautam Gambhir off consecutive deliveries for first-ball ducks.
India never quite recovered from the double jolt, and Rampaul said the basic idea was to keep it tight. "Early wickets were the key. My strategy was to bowl wicket to wicket. We wanted to have a go at the Indian middle order early. Finally we have a win on the tour. It means a lot to us." he said.
"I'm pretty used to bowling in these conditions, because the tracks back home are quite similar. I also played the Champions League T20 in India, so I know what a bowler is supposed to do here. This wasn't a tough wicket to bat on."
Rampaul had a word of praise for debutant Sunil Narine, 23, the 'mystery' spinner who first prised out Virat Kohli and then dismissed R. Ashwin when his partnership with Rohit Sharma was assuming alarming proportions.
"We needed a good spinner in the side. And Narine was under so much pressure. But he kept a tight line and managed to take a couple of wickets as well. He is a very good prospect for us," Rampaul said.
Meanwhile, the losing captain Virender Sehwag expressed concern at the lack of runs from India's top order.
"It's time the top order fired. I, (Gautam) Gambhir, (Suresh) Raina, and Parthiv (Patel) have to make big runs to help the team. This (loss of form) happens when we play a lot of matches. We're just one innings away from regaining form."
Sehwag credited Darren Sammy and Andre Russell, architects of a whirlwind unbeaten 34-ball, 79-run partnership, with taking the game away from India's grasp.
"The bowlers tried everything. Back of length, short of length, yorkers, but they just connected everything. I don't blame the bowlers. They tried but it did not come off. Mithun bowled well in the early stages, but was hit towards the end. He is young and will learn with experience," he said.
The one shining light in darkness, Rohit Sharma, was also singled out for approval.
"Rohit is a talented cricketer and he's making full use of his good form. It's difficult to bat with tail-enders, but he knows how to rotate the strike and when to take chances."