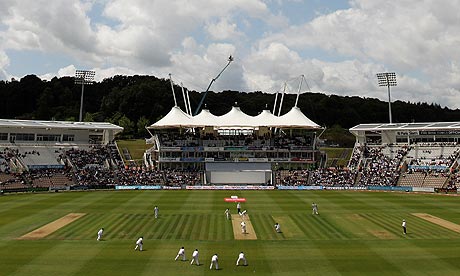 Just like most other years, the 2011 sports world was filled with huge stories. Some were about the champions in their respective sports, like the Packers beating the Steelers in the Super Bowl. Some changed a landscape, like Shaquille O'Neal retiring from the NBA. Others were controversial, such as Cam Newton winning not only the Heisman but the BCS Championship as well.
Of course, there was no shortage of disappointing stories as well. Though it may be nice to think these were few and far between, the reality is that they weren't. There were plenty of then. Here are the top five disappointing sports stories of 2011.
Peyton Manning misses the NFL season.
Love him or hate him, there is little room to debate Manning's place in the history books as one of the greatest quarterbacks of all time. After having two neck surgeries in the past year, the rest of his career is in serious doubt. As it stands now, there is a significant chance there will be no retirement tour, no final season for him to bask in the limelight for just a minute longer, no last chance at a second championship ring. Truly a disappointing end to a legendary career.
Lockouts hit the NFL and NBA.
Sure, there may have been valid reasons for the owners and players to argue, but to the average fan it was nothing short of infuriating. Fortunately for the NFL, the two sides were able to work out a last minute deal before the season was dramatically affected, but the NBA wasn't so lucky. Even with a deal worked out, the mudslinging between owners and the player's union has been extreme. It all boils down to one thing: while millionaires and billionaires argue over money, many fans are struggling to survive in a bad economy.
Ryan Braun fails a drug test.
Just a few weeks after winning the NL MVP it was announced the Brewers superstar failed a random drug test, casting serious doubts on his award. Since then, it has been widely reported the failure was not for a performance enhancing drug, but instead was due to medication prescribed for a non-baseball medical issue. Though such a claim may or may not be true, it has rocked the steroid-riddled sport.
UFC's heavyweight championship on FOX ends quickly.
This was just another step in Dana White's plan to improve mainstream interest in the promotion. The stage was set for an epic heavyweight battle on network television. After 64 seconds of fighting, it was all over. It can only be assumed that this wasn't quite the experience White was looking for. Perhaps the next free fight should feature light heavyweight champ Jon Jones, who recently had a highlight reel choke-out of Lyoto Machida.
Penn State is rocked by sex abuse scandal.
Though the image of hall of fame coach Joe Paterno has undoubtedly suffered as much as the school itself, that isn't the most disappointing aspect of this story. Nor is it the fact that Jerry Sandusky allegedly used the school premises and his own non-profit organization to commit such heinous acts. No, the most disappointing part of this scandal was how Paterno, his assistant coaches, and the school administrators failed to act to protect these young boys while allowing the alleged abuse to continue after supposedly being informed about what Sandusky was doing. Such an accusation only makes this sordid story sadder.