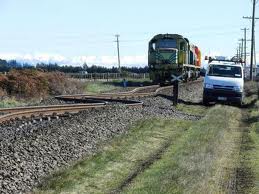 Wellington: The earthquake-devastated New Zealand city of Christchurch was rocked by a powerful 5.8 magnitude tremor on Friday forcing evacuations from buildings, residents said.
New Zealand's second largest city was hit by a 6.3-magnitude quake in February, killing 181 people and destroying much of the downtown area.
Government seismologists measured the latest shake at magnitude 5.8 and said it struck at 1:58pm (0058 GMT) eight kilometres (five miles) deep.
Local news media reported people fleeing into the streets with fear on their faces as the quake followed by four strong aftershocks rattled the city.
Shopping malls were vacated and Television New Zealand said the international airport was shut down.
Telephone services and electricity supplies were disrupted but police said there were no immediate reports of structural damage.
Christchurch resident Jo Davis told Fairfax News her neighbours were screaming.
'I was terrified, I guess just because it's been so long since we've had a decent one. We've had a TV and glasses fall over but no repeat of liquefaction (when earth becomes fluid) like in June so I guess it's not so bad.'
Scientists warned last month of an increased probability that another powerful earthquake would hit Christchurch.
New Zealand sits on the so-called 'Ring of Fire' the boundary of the Australian and Pacific tectonic plates, and experiences up to 15,00