1. Biriyani rice 500 gm
2. Lemon 2
3. Turmeric powder, Mustard seeds 2 teaspoon
4. Oil 25 gm
5. Fenugreek 1 teaspoon
6. Channadhal, Urud dhal 3 teaspoon
7. Asafoetida a pinch
8. Cashews 10 nos
9. Peanuts 25 gm
10. Dry chillies 4
11. Curry leaves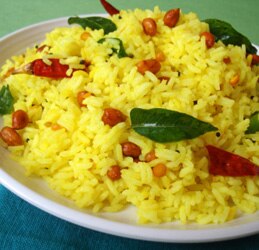 Mix fried and grinded Urud gram and fenugreek into the half cooked rice along with needed salt and lemon juice. Season it with curry leaves, asafoetida, channa dhal, dry chillies and mustard. Then fry the cashews and peanuts in the remaining oil and add it to the rice. Lemon rice is ready to be served.
Coconut Kozhukatta
Kozhukattas are here again and learn to make different kinds of kozhukattas to fill your satiating tastes. Taste these Coconut Kozhukatta, Green gram Kozhutta, Channa dhal kozhukatta, Tillseed kozhukatta and Pidi kozhukatta for a relishing evening.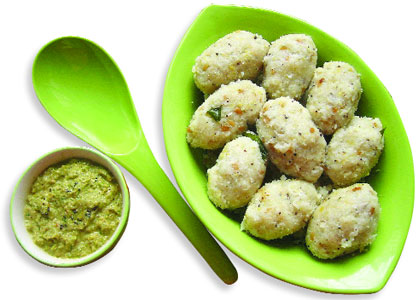 Coconut Kozhukatta

Coconut (Big) 1.5 kg
Jaggery 450 gm
Raw rice flour 4 1/4 cup
Boil the jaggery with a little water in a flat bottom vessel till it becomes a thick syrup. Add scraped coconut along with 2 spoons of ghee and when the grated coconut turns red add cardamom powder and keep it aside. Make a dough with rice flour, by adding hot water, into idiyappam consistency. After the jaggery syrup is cooled make it into small balls. Then apply oil in your hands and take a little of the dough. Spread it equally placing the jaggery ball in the middle. Steam the filled balls in a idli cooker. Coconut Kozhukatta is ready.
Green gram Kozhutta

Moong dhal 250 gm
Coconut 1/2
Jaggery 375 gm
Raw rice powder 3 cup
Make the dough like in Coconut kozhutta. Fry the green dhal and then cook it. Then grind it into a paste. Make a sugar syrup with jaggery and a little water, adding little salt and cardamom powder. Fry the cut coconut pieces in little ghee and then add it to the jaggery. Take a little dough and place the jaggery mixture in the middle. Steam the filled balls.
Channa dhal kozhukatta

Channa dhal 200 gram
Jaggery 350 gm
Coconut 1/2
Raw rice flour 3 cups
Make a dough with raw rice flour adding boiled water and needed salt. Grind the cooked channa dhal. Make a thick mixture with jaggery, grinded channa dhal, cardamom powder and grated coconut. After it is cooled make into small balls and place it the dough which is spread evenly on hands and steam it.
Tillseed kozhukatta

Tillseed 150 gm
Jaggery 225 gm
Coconut 1
Raw rice powder
Clean the tillseeds, fry and grind it. Make a thick mixture with tillseed powder, jaggery, grated coconut. Then fill the kozhukattas with this mixture and steam it.
Pidi kozhukatta

Raw rice 1 1/4 cupCrushed Jaggery 1 cup
Coconut 1
Was the raw rice and after it is dried coarse grind it. Pour the coarse grind rice flour into the jaggery mix and stir it well. Add the grated coconut and keep it aside. After it is cool make it into small balls and pressure cook it.
Salmon salad
Healthy and nutritious salmons can be used to make salads.
Smoked salmon (Ayakkora) 100 gm
Red onions 50 gm
Green chillies 6
Vinegar 20 ml
Curry leaves


Salt to taste
Pepper powder 5 gm
Scraped coconut 10 gm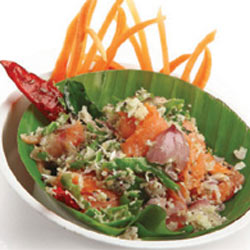 Crush all ingredients except fish and then add the smoked fish to it. Salaman salad is ready to be tasted with rice.
Chicken recipes always strike the right chord with many people. The aroma and the flavour are tempting and would be the right choice for any food lover.
1 Chicken 1/2 kg
2 Crushed ginger 1 1/2 teaspoon
3 Crushed garlic 2 teaspoon
4 Tomatoes cut into long pieces 3
5 Green chillies slit vertically 5
6 Kashmiri chilly powder 4 teaspoon
7 Curry leaves
8 Coconut oil 3 tablespoon
9 Turmeric powder 3/4 teaspoon
10 Salt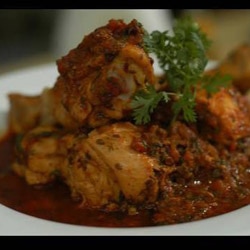 Pressure cook the chicken pieces with salt and turmeric. Then take a thick bottom vessel and pour little oil. Saute the ingredients from item 2 to 6. Pour little water and make it into a thick consistency. Then add the cooked chicken pieces with little salt and simmer it for some time till the gravy becomes thick. Finally add curry leaves and serve it hot.
Tharavu bhajji (Duck bhajji)
Duck meat is considered to be 'white' meat, even though the meat on a duck is considerably darker than other poultry meats such as chicken or turkey. Duck or tharavu meat is used in a number of dishes in India and the special bhajji made of duck meat is hot and spicy.
1 Minced boneless duck meat 250 gm
2 Chopped onions 1
3 Green chillies cut into round shape 4
4 Chopped ginger
5 Chilly powder 2 teaspoon
6 Oil
7 Channa dhal flour 1/4 cup
8 Rice flour 2 tab;espoon
9 Salt
10 Curry leaves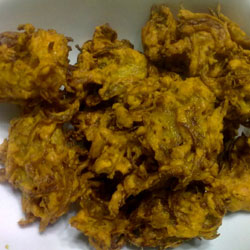 Mix all the ingredients from item 1 to 10 (except oil) and make a thick batterand fry it in hot oil by pouring with a spoon. DUck bajji is ready.
Vada is a tasty fast food and there are different kinds of vada. The new recipe which could be tried out during the jackfruit season is simple and is an authentic Kerala cuisine.

1 Cooked chakkakuru (jackfruit seeds) grinded in mixie 500 gm
2 Channa dhal flour 250 gm
3 Coconut oil 150 ml
4 Chilly powder 10 gm
5 Asafoetida 4 gm
6 Chopped onions 2
7 Garlic 25 gm
8 Curry leaves
9 Salt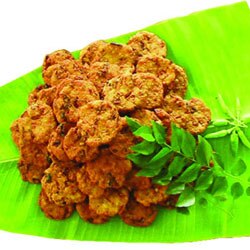 Mix all the ingredients by adding 2 cups of hot water and make it into a dough not very hard enough. Then make into small vada shaped ones and deep fry in coconut oil.
This is the special item of the Coorg region which is very hot and green in colour. The speciality of this curry is that it does not need any oil. Why not try an oil-less curry for the health conscious.

1 Chicken 1 kg
2 Coriander leaves 100 gm
3 Pudhina 100 gm
4 Green chillies 10 nos
5 Garlic 20 gm
6 Ginger 20 gm
7 Scraped coconut 2
8 Garam masala 10 gm
9 Salt to taste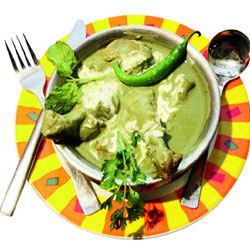 Grind all the ingredients from item 2 to 7. Marinate the chicken pieces with the grinded masala and cook it. After it is cooked properly, add garam masala, salt and boil it well. Serve it hot.
This highly healthy beetroot soup is low in fat and high in taste. Also eating beetroot helps fight cancer. Why not try this easy to make recipe for kids to enjoy.

Beetroot (cut into square) 500 gm
Chopped Onions 1
Olive oil 1 tablespoon
Vegetable stock 1200 ml
Orange juice of 2 oranges
Salt to taste
Pepper powder
Scraped Orange peel 1/2 orange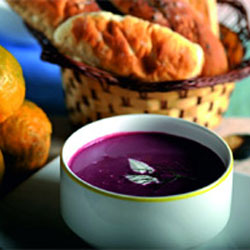 Saute the onions and beetroot in olive oil. Add the vegetable stock to it and bring it to a boil. Simmer it for about 25 minutes. Add orange juice and the scraped orange peel and allow it to boil in slow heat for 5 more minutes. Grind all the ingredients in a mixie. Beetroot Orange soup is ready to be served hot.

Vegetable stock
Carrot 100 gm
(Cut all vegetables in equal sizes)
Onion 160 gm
Fennel 60 gm
Celery 80 gm
Garlic 25 gm
Pepper powder 5 gm
Bay leaves 2 gm
Water 2 litres

Boil all the ingredients in small flame for about 30 to 40 minutes. When it starts to boil remove the froth from the top. After switching off the flame keep it aside for 30 minutes without stirring. Then filter it and vegetable stock is ready.
Beef roast
This Malabar style dish is ideally served with pathiri, puttu, appam etc and is ideally a Malabari style dish.



1 Beef 1 kg
2 Garlic a big bulb
3 Fennel (sombu) crushed 1/2 teaspoon
4 Crushed pepper 1 1/2 teaspoon
5 Crushed mustard 1 teaspoon
6 Cut coconut 1/2 cup
7 Drumstick skin grinded a small piece
8 Turmeric powder 1/2 teaspoon
9 Ginger small piece
10 Scraped coconut 1/2 cup
11 Crushed chillies 1 tablespoon
12 Coconut oil 5 tablespoon
13 Garam masala 1 1/2 tablespoon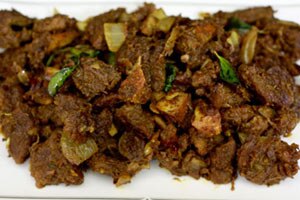 After cleaning beef and draining off all water, marinate it with items 1 to 9, adding three teaspoons of coconut oil. After keeping it for a minimum of 1 hour, pressure cook it. In a heavy bottomed vessel, add 5 teaspoons of coconut oil and then add the chopped ginger, curry leaves, scraped coconut and when the raw smell goes off, add crushed chillies. Then add the cooked beef and garam masala and allow it to simmer for 20 minutes. Beef roast is ready.
Muthira chammandi
Horse gram or muthira is highly proteineous, rich in iron and has medicinal value too. The chammandi tastes delicious and can be used as a side dish.Fried muthira (horse gram) 1 cup
Scraped coconut 1/2 cup
Small red onions 4


Vallan pulli (Tamarind)
Green chillies 2
Ginger small piece
Curry leaves
Salt to taste
Coconut oil 1 teaspoon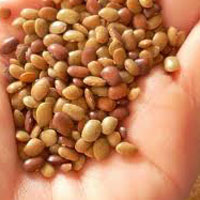 Grind all the ingredients in a mixie. Then pour it in a bowl and add a spoon of coconut oil. Tasty chammandi is ready to be served for idli or dosa or even kanji.
Tri colour maida cake
Here is a cake decorated with the colours of your choice. Aesthetically appealing it is a sure hit among children.
Maida 1 1/2 cup
Ghee 1 cup
Sugar 2 cup
Water 1/2 cup
Cocoa powder 2 teaspoon
Vanilla essence 2 drops
Food colour (Green) 1 pinch
Pista essence 2 drops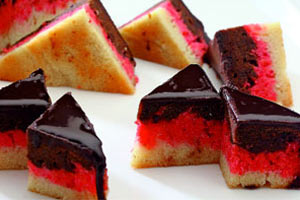 Pour three fourth of ghee in a heavy vessel and keep it on stove. After it gets heated roast maida. In another vessel make sugar syrup and then add the maida into the syrup and mix it well. Divide it into 3 equal parts.

Add cocoa powder to the first part and mix it. Add vanilla essence to the second part and to the third add pista essence and food colour.



Then in a kadai, put the first mixture and keep it on the stove. Add little ghee and stir it well. After the contents start leaving the bottom of the vessel switch off the stove and pour the mixture in a ghee coated vessel. Cook the second part too like the first and once the mixture starts leaving the vessel pour it on top of the first mixture. Lastly, cook the third part and after it is cooked add it as the top layer. After it is set cut into desired shapes and store it in a container (Cut the cake when it is hot itself).
Kalkandu vada
Since it is made with sugar candy the name kalkandu vada. It is a Chettinadu recipe and is a kids favourite.

Moong dhal 1 cup
Rice 1/4 cup
Kalkandu (rock sugar) 1/4 cup
Salt a pinch
Oil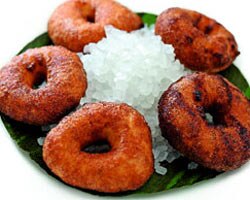 Soak moong dhal and rice for about 30 minutes. Powder the kalkandu. Grind the soaked dhal, rice and kalkandu. Heat oil in a kadai and make the dough into vada shaped and deep fry it in oil. Fry till it is golden brown in colour. Kalkandu vada is ready to taste.
Carrot halwa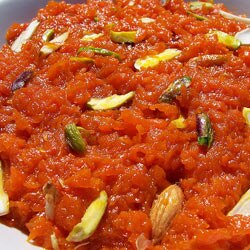 This Super tasty Carrot halwa, the famous North Indian sweet, with its attractive colour kindles the taste buds of anybody. This simple recipe is easy to make and is rich in Vitamin A.C

1. Scraped carrot 1 cup
2. Scraped coconut 1/2 cup
3. Sugar 1/4 kg
4. Ghee 3 tablespoon
5. Cashewnuts, kiss miss 10 nos

Cook the scraped carrot in a little water in a frying pan with lid covered till it is well cooked. Then add sugar. After that add ghee, scraped coconut, cashew nuts, kiss miss till the mixture leaves the bottom. Delicious carrot halwa is ready to taste.
Chicken Kheema Biriyani
This is a spicy and delicious non vegetarian dish which takes a lot of time for preparartion. But ultimately it turns out to be a wonderful recipe.
Chicken Kheema 1/2 kg
Onions 4
Biriyani rice 2 cups
Ginger, Crushed garlic 1 1/2 tablespoon
Tomato 2
Green chillies crushed 4
Pepper powder 1/2 teaspoon
Garam masala 3/4 teaspoon
Coriander leaves, mint leaves


Ghee 3 tablespoon
Vanaspathi Dalda 2 tablespoon
Cardamom, cloves, cinnammon 2
Biriyani colour


Lime juice 2 tablespoon
Salt to taste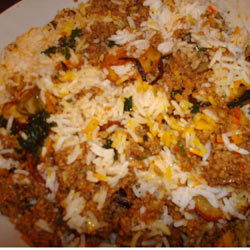 In a pressure cooker add 2 tablespoon of vanaspati and then add half onion, cardamom, cloves, cinnamon, coriander and mint leaves. Stir it well and put biriyani rice to it. Pour three cups of hot water with little salt and close the lid. Wait for a whistle and switch off the stove.



In another thick bottomed vessel add vanaspati and onions and saute it. Then add ginger and garlic, green chillies and tomatoes and stir fry. After this add chicken kheema, pepper powder, half teaspoon garam masala powder, salt, coriander leaves, mint leaves and close the vessel with a lid till it is cooked and the water evaporates. Then add a tablespoon of lime juice and mix well.
To the cooked rice add the remaining garam masala powder, little coriander and mint leaves, lime juice and little colour and mix it well. In another vessel smear ghee and spread little of Kheema masala. Add half of rice. Again spread Kheema masala and on top of it the rice. After setting all the layers, steam it or place it in a microwave for 2 or 3 minutes. Chicken Kheema Biriyani is ready.
Chembila appam
In Kerala, the leaves of colacasia are used to make chembila curry, chembila ada and many other dishes. The leaves have a taste similar to spinach or collards, and can be steamed or used as wrappings for other foods. Try this new variety.

Raw rice 1/2 kg
Cumin seeds 1 spoon
Scraped coconut 1/2 coconut
Red chillies 3
Asafoetida a pinch
Coconut oil
Tender Chembila leaves ((Colacasia leaf)
Salt to taste
Curry leaves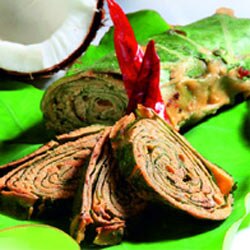 Grind the soaked raw rice, scraped coconut, cumin seeds, chillies, curry leaves along with needed salt to a kozhukatta consistency. Add asafoetida powder too. Taka a fresh tender colacasia leaf (chembila), remove the extra strands and spread the dough fully on the leaf. Again keep a leaf on top of that and spread the dough completely over the leaf. When four decks are ready, roll it vertically and steam it. When it cools, cut into round shapes and fry in a dosa tava with little oil. Chembila appam is ready.
Oats Semiya burfi
It's an easy, wonderful and sweet snack which could be made on any holiday. It is nutritious as well.

1. Ghee 1 spoon
2. Cashewnuts, badam, kiss miss, pista 1/2 cup
3. Semiya, oats, Milk, Sugar 1 cup each
4. Vanilla essence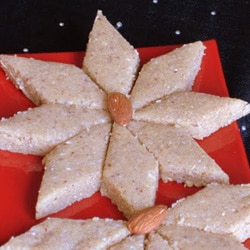 Pour little ghee in a pan and fry all the dry fruits. In the remaining ghee fry the semiya to a light brown colour and cook with little water. Then add milk and later when it starts to condense, add oats and sugar. When the contents starts leaving the vessel, add the roasted dry fruits and little vanilla essence. Then in a ghee-coated plate, pour the mixture and after it dries, cut into required shape.
Elakka Ethapazham Sambhar
Sambar, the king of curries for any South Indian meals, find different tastes in different parts of the region. The masala of the Sambhar gives the curry its special taste. Ethapazha sambhar is a new variety of sambhar and could be tried out for an occasion.

Small cardamom 15
Banana (Ethapazhan) and manga 1 each
Onion 8
Tomato 2
Green chillies 4
Bay leaf (karuvapetta leaf) 1
Curry leaves


Tuar dhal 75 gm
Coriander leaves
Coriander powder 2 tablespoon
Turmeric powder, fenugreek 1 teaspoon each
Cumin seeds 1/4 teaspoon
First milk of coconut 1 cup
Second milk of coconut 3 cup
Mustard seeds 1 teaspoon
Asafoetida small piece
Red chillies 8
Coconut oil 1 tablespoon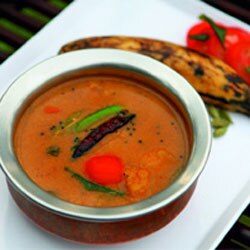 Cut ethapazham, mango and tomato into small pieces. Slit green chillies. Roast coriander, cumin seeds, 6 red chillies, curry leaves, a bit of asafoetida and fenugreek in little coconut oil and grind it into a masala. Pressure cook the tuar dhal along with half teaspoon of turmeric powder and bay leaf.



In a thick bottomed vessel season mustard seeds, fenugreek seeds, red chillies and curry leaves in little coconut oil. Then add onions, cardamom, green chillies, ethapazham, mango, tomato and stir it fry. Add the grinded masala along with the pressure cooked tuar dhal and salt. Allow it to come to a boil. When it becomes thick, add second milk of coconut and boil it. Then add the first milk of coconut and spread coriander leves lastly. Elakkai Ethapazham Sambar is ready to be served.
Tomato chicken
This saucy tomato chicken tastes delicious and is simple and easy to make.

1 Chicken 1 kg
2. Green chillies 10
3 Ginger a big piece
4 Garlic 6 cloves
5 Pepper powder 1 teaspoon
6 Salt and oil


7 Tomato 1/2 kg
8 Butter 100 gm
9 Curry leaves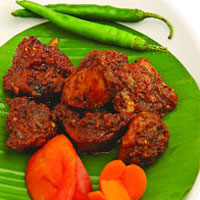 Crush items 2,3,4, Marinate the chicken pieces with item 5 and 6 and also the crushed mixture and keep it aside for some time. Fry it in oil. In another vessel, melt butter and then add curry leaves, green chillies and stir it well. Without adding water mix the grinded tomatoes and salt to the mixture. When it starts to boil add the fried chicken. Stir well till the waer in the tomatoes dries up and mixes well with the chicken pieces. Tomato chicken is ready to taste.
Spiral Kabab
Kababs come in a variety of colours and flavours and this spiral Kabab looks decorative with a ribbon like thread.
Chicken 1/4 kg
Green chillies finely cut into pieces 3
Pepper powder 1/2 teaspoon
Garam masala powder 1/4 teaspoon
Egg half
Bread a small piece
Pudhina, coriander leaves, a teblespoon of lime juice
Maida 1/2 cup
Oil and salt as required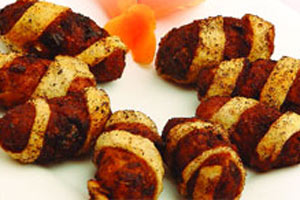 Grind the chicken in a mixie. Mix all the ingredients, except maida and oil, and make it into a smooth dough along with the grinded chicken. Roll it into kabab shape balls. Make a smooth dough with maida, salt and a little water. Roll it like a puri and cut into ribbon stripes. Tie the ribbon on the kabab and deep fry it in oil. Spiral Kababs are good to taste.
Ayila Nirachathu
Ayila Meen is Indian Mackerel fish and is one of the tastiest fish famous in Kerala and Tamil Nadu. Temting and delicious .

1. Ayala (mackerel) - 2 Big fish
2. Maida - 3 tablespoon
3. Coconut oil

Fillings

4 Green chillies, Onion 2


5 Curry leaves 2
6 Garlic and ginger 2 teaspoon
7 Coriander powder, Pudhina 2 tablespoon
8 Turmeric powder 1/4 teaspoon
9 Salt
10 Perinjeeragam 1/4 teaspoon
11 Scraped Coconut 1 cup

Paste
12 Curry leaves
13 Pudhina 2 tablespoon
14 Coriander powder
15 Green chillies 4


16Garlic, Ginger 1 teaspoon
17 Turmeric powder 1/4 teapoon
18 Salt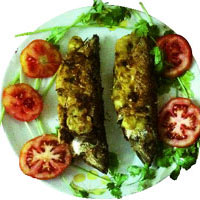 Clean the Ayila fish without taking off the head part. Clean the stomach region and remove all bones from there. In a little coconut oil, mix items 4 to 7 keeping it in stove. Then sprinkle items from 8 to 10. Then add coconut and meat masala and when the gravy is ready, keep it aside.

Fill this gravy in the stomach part of the fish.



Grind items 12 to 18 and marinate the fish. Make a maida paste with maida and salt and close the stomach part of the fish so that the filled masala may not pop out.

Deep fry the stuffed ayala.
Paneer Avial
What is Onam without avial which is a must for any sadya. Why not try this new variety of avial for this Onam. You can make home-made paneer too. Add a spoon of lemon juice to boiling milk .When milk curdles full turn off the gas and keep it aside for 5 minutes. Then strain it. Paneer is ready. With 3 litres of milk as much as 300 gms of paneer can be made. Milk should be unadulterated without water and should be fat rich.



Paneer 300 gm, Carrot 4, Beans 3 nos, Drumstick 2, Grated coconut 4 cups, Turmeric powder 2 teaspoon, Chilly powder 2 teaspoon, Cumin seeds 1 teaspoon, Garlic 4 cloves, Coconut oil 4 teaspoon, Salt to taste and curry leaves.

Cut the panner into long strips. Cut beans and carrot into small pieces. Crush the cumin seeds, garlic along with curry leaves. Add the paneer, cut carrots and beans, drumstick to the grated coconut and mix it well with turmeric powder and chilly powder. Then add the crushed cumin seeds, garlic and curry leaves along with coconut oil. Boil it with little water and salt till the vegetables are cooked. Paneer avial is ready.
Pulimeen curry
Kodampuli is a special tamarind normally used in Kerala style of cooking. Kodampuli added to fish curry makes it taste hot and spicy and is really a mouth watering recipe.



Naimeen (Seer fish) 1/2 kg
Chilly powder 2 teaspoon
Chopped Ginger, Garlic 1 teaspoon each
Fenugreek powder 1 teaspoon
Turmeric powder 1/2 teaspoon
Mustard 1/4 teaspoon
Tamarind (Kudampuli/ Gambooge) 3 cloves
Curry leaves
Salt to taste
Cut Small onions 1/2 cup
Coconut oil 1/2 teaspoon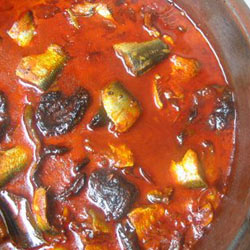 After seasoning mustard seeds, saute onions, ginger and garlic in little oil. Mix chilly powder and turmeric powder in little water and then add it to the mixture. After the oil floats on top, add kudampulli and a cup of water along with salt and allow it to boil. In a pan cook the fish pieces with curry leaves and add it to the boiled mixture. After it is cooked sprinkle fenugreek powder and keep it aside.